Ultra Low Power High Performance Radio Modules for Easy Integration




Telemetry
Witech MD868W25-1AS provides a quick, simple and cost effective way to set up an Automatic Meter Reading system (AMR). This system provide the automatic reading of the consumptions, diagnostic and status data from metering devices (water, gas, electric) and exchange data between meter nodes and a central database for billing, troubleshooting and remote control.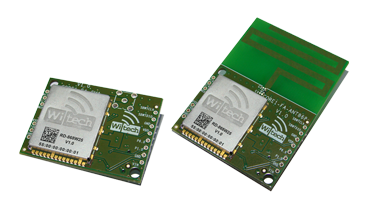 The Witech modules conected to the supplies complete a bidirectional radio network that allows the transmission of the consuption datas, alarms and notifications from the meters to the supplier's office.
WITECH metering system uses an unplanned radio network in a free band offering high quality and reliability in the comunications.
Its main functions are:
Automatic reading of the consumptions;
Leaks identification;
Alarms generation
Action over the supplies.
Storage measures for billing.
The metering network is centralized in an access point or a server that has the capacity of 2.000 meters. The functions of this equipment are:
Collect consumption data and alarms on your network supplies.
Conduct individual or group readings, and,
Offer a service of access to stored data through a data transmission system.
Description of the sistem
Remote reading of water, electricity and gas meters. Connection interfaces to pulse meters and protocols CZBUS y M-BUS.
Based on an unplanned and self-configurable network architecture,the system has mechanisms that allows its performance even with partial damage to the facilities aa, for example, electricity fall, interference, etc.
The Witech system is formed by a node network transmiting the data from node to node until a central server where the datas are collected and stored for further processing.
Management of up to 2,000 meters with radio network.
Through an alarm system the supplier firms provigil without a prescription are informed about leaks, battery status and cases of fraud that may occur.

Possibility of connection with a solenoid / contactor, allowing the remote cut and activation of the supplies

Radio network in an ISM band of free use. Significant reduction of expenditure data.
Advantages:
Radio network in an ISM band of free use. Significant reduction of expenditure data.
Reliable readings.
Operated with bateries.
Possibility to offer prepaid to the customers

Safety and convenience for users, since it is not necessary to go into their homes for reading consumption.
Batery Life = aprox. 10 years.
Registers of historical consumption data. Ability to define consumption profiles.
Reading can be accomplished at any time of day.
Technical Specifications:
Radio Module

- 3V lithium battery with an aproximated life of 12 years;
- Power Transmission: 915 MHz (Americas), 868 MHz (Europe);

RF Transmission

- Long range: 1,7 km line-of-sight.
|
|
|
All the content © Copyright 1983 WITECH. All rights reserved